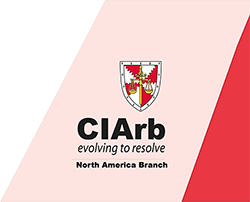 Friday, August 19, 2022, at 2:00 p.m. EDT/11:00 p.m. PDT
CIArb-NAB's new monthly webinar series "Ask the Arbitrator" presents an interview with Amb. (r.) David Huebner FCIArb on Friday, August 19, 2022, at 2:00 p.m. EDT/11:00 p.m. PDT. Amb. David Huebner will be interviewed by Kirsten Teo, Vice Co-Chair, Programming Committee of CIArb-NAB (See bios below).
Ask the Arbitrator series features hour-long sessions of light-hearted conversations with seasoned international arbitrators, each month, that are not only fun, but also substantive, with a focus on how to break into the field of international arbitration, or how to best position oneself to get the arbitration work in international arena. The monthly series is intended to promote and integrate the Chartered Institute of Arbitrators and its members, as well as the participating student community, outside of the more formal educational programming.
The series will provide ADR community with content that speaks to the practical skills and strategies employed by skilled Arbitrators and Mediators. The interviews will delve into topics of interest to the arbitrators, educators/ law students, and generally include a moderated question and answer session.
Biographies:
Amb. (r.) David Huebner FCIArb has handled more than 300 arbitrations in three dozen jurisdictions around the world. He was based for extended periods in Tokyo, Shanghai, and New York, and now practices from Los Angeles. He has particular expertise in the technology, life sciences, new energy, and media/entertainment sectors, and the Silicon Valley Arbitration & Mediation Center has regularly named him to its "Tech List" of the "world's most accomplished technology neutrals."
A graduate of Princeton University (summa cum laude) and Yale Law School, Amb. Huebner is a licensed solicitor in England & Wales, member of the Bars of California, New York, and DC, Fellow of the College of Commercial Arbitrators, Chartered Arbitrator and Fellow of the Chartered Institute of Arbitrators, and life member of the Council on Foreign Relations. He is a trustee of the Chartered Institute of Arbitrators, representing the Western Hemisphere. He spent 4 years in diplomatic service in New- Zealand and Samoa during the Obama Administration.
See www.HuebnerArbitration.com for more information.
Kirsten Teo is a Singaporean special legal consultant in Dechert's Washington DC office concentrating on international commercial and investment arbitration. She focuses her practice on public international law, international aviation, and laws of the sea. Prior to joining Dechert, Ms. Teo was the Head of the arbitration associates' working group in the Singapore office of another international law firm and Counsel in an arbitration boutique
Ms. Teo has been entrusted by clients and arbitrators to act as international arbitration counsel and tribunal secretary for a decade with significant experience in Asia, Europe, and the U.S. In addition to her counsel and tribunal secretary work, she is empaneled as an Arbitrator on the Singapore International Arbitration Centre (SIAC) and Tashkent International Arbitration Centre (TIAC) reserve panel of arbitrators and serves as the first Chair of the TIAC45 arbitration practitioners' group. She also serves as Vice-Chair of Programs at the Chartered Institute of Arbitrators North America Branch.
Ms. Teo worked with the Secretariat of the Stockholm Chamber of Commerce (SCC) while completing her LLM in International Commercial Arbitration at Stockholm University (2016-2017). She was the sole recipient of the Swedish Arbitration Association scholarship and awarded the Global Swede scholarship by the Swedish government. In 2011, she passed the Singapore bar exam with distinction in arbitration and was admitted as an advocate and solicitor of the Supreme Court of Singapore in 2012.
This program is free, but space is limited.  To register, go to:
https://us06web.zoom.us/webinar/register/WN_pou2zKotRoSpx3GLmV-u_Q