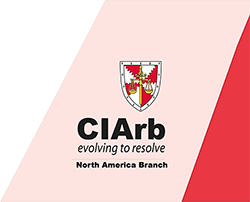 Offered via Remote Video Conference
September 26, 27 and October 2, 3, 4, 2020
Our program is fully subscribed hence registration is now closed. Those wishing to register who are unable will be added to a waitlist and taken on a first come/first served basis if any openings occur. If you are interested in joining the waitlist, please submit the form below. You will be advised at least 48 hours prior to the start of the course if there is a cancellation at which point you will be given the option to register. 
Join the Waitlist
Presented jointly by the North American regional Branches of the Chartered Institute of Arbitrators
Canada Branch
New York Branch
North America Branch
CLICK HERE TO VIEW PROGRAM BROCHURE
The Accelerated Route to Fellowship Program is designed for senior practitioners in the field of dispute resolution procedures. Fellowship is the highest grade of Institute membership and allows the use of the designation FCIArb.
The program focuses on applicable laws and procedures for the conduct of efficient arbitration hearings in complex international cases. Satisfactory assessment of performance in role play exercises will permit the candidate to take the award writing examination for qualification as a Fellow of the Chartered Institute of Arbitrators, which will be administered as part of the program.